Find New Routes Near You
Multi-Sport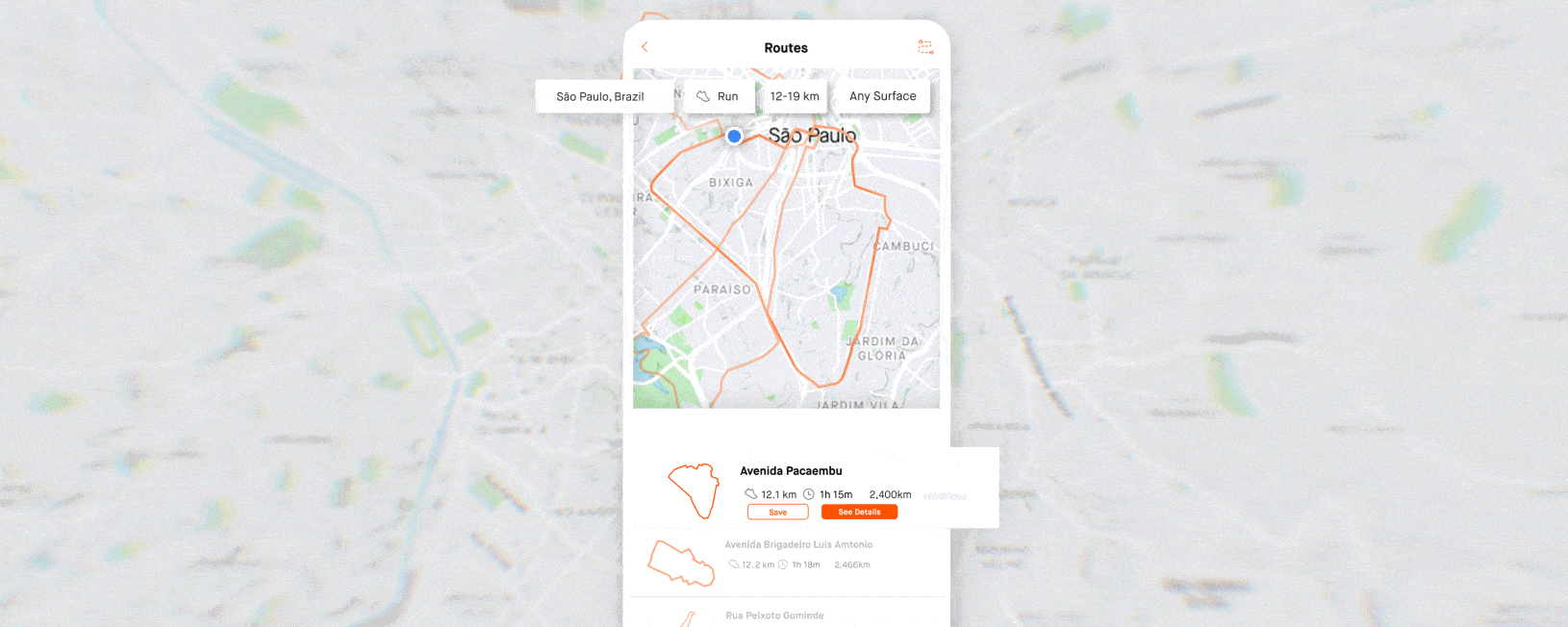 Strava athletes know the best places to ride and run, and with 100 million of you in total, that's a whole lot of routes – not just the world's must-do roads and trails, but also the easiest ways to get around town and the most bang-for-the-buck workouts from almost anywhere.
To help you unlock all that knowledge, we're building new features for Routes, powered by the Strava community and OpenStreetMap, the world's biggest open-source map dataset.
Check out Strava's Route platform
Hit the Trails
If you're looking for trails in your area, there's now a way to find trail-specific options in the app. Head to the Maps tab, then select: Hike, Trail Run, Walk, Mountain Bike or Gravel Ride. For each activity type, you'll see networks of trails branching out from Start Points near you!
Strava subscribers can get personalized route suggestions in the app, or use the web to plan rides and runs with a whole new suite of easy-to-use features. If you don't already have a subscription to Strava, start a free trial to dive in.
Get There Any Way You Like
When you build your route on the web, you can choose to connect points with a simple straight line, or let us take you on the roads and trails that other athletes have taken before. Use the most popular path or a more direct one to get you started. Then if you're looking for more climbs or trails nearby, adjust your elevation and surface preferences and we'll add them into your route where possible.
Find Your Next Training Ground
You can put a little friendly competition into any route using Segment Explorer. It shows nearby segments you can add to your route for a chance to test your fitness or claim a spot on the leaderboard.
You Say What and Where – We'll Build It
Looking for a new route but don't have the time to plot one out? Routes in the app was made for you.

Whether you're looking for a new run or ride from your front door or to explore somewhere unfamiliar, you can quickly get personalized route suggestions that fit the bill, straight from your phone. Long or short, paved or dirt, hilly or flat – you decide and we'll create options based on where athletes actually go.

If one of those options sparks an idea of your own, try out the Draw feature to make a quick sketch and we'll match it to popular roads and trails.
Know What to Expect
Heading somewhere new can be daunting, even if it's just taking a right instead of a left down the same old street. So we've built in features to let you learn the ins and outs of your routes.
Time: Get a feel for how long routes will take with time estimates based on your recent activity.

Surface Data: In the app, check out the details and learn when to expect any climbs or changes in surface, as well as popular segments you can compete on. On the web, you can see all this info right on screen. (Surface data isn't perfect everywhere – hang tight as we dial in areas that aren't labeled exactly right.)

The Heatmap: Use the Heatmap overlay to see popularity on any particular section of your route, and watch the map light up with the most common paths from 3 billion activities worldwide.

Powered by Athletes: Strava Routes are powered by athletes, which means we love hearing from you about your route, especially if we got it wrong. We'll be improving this new feature every chance we get and need your feedback - we're listening, let us know!
Save, Navigate and Sync to Garmin
When you've got a route you like, save it, navigate from the app, or automatically sync it straight to any Garmin device that has Courses.

You can also use it on other compatible devices or share it with friends, training partners and anyone else looking for a new place to go.
Build Your Own
Your route suggestions are based on what's popular in the area, but if you want to go your own way, you can draw your own route turn by turn, or outline the general path you want to take and it'll match to nearby roads and trails.
More on the Way
The next round of updates and improvements is already in the works, so stay tuned. More ways to customize and use routes on both your phone and the web are coming soon.